12sep11:00 am4:00 pmZero Waste Market
Event Details
Springboard Performance and Plastic-Free-YYC present a ContainR Event
The Zero Waste Market is an all-day market and showcase produced by Plastic-Free YYC and Springboard Performance that aims to raise awareness of our growing plastic problem and promote a zero-waste lifestyle. Attendees will have the opportunity to interact with organizations and businesses across Calgary who promote zero-waste living and sustainability. Local zero-waste businesses will sell various sustainable products at the market, and non-profit organizations will share interactive exhibits focused on raising awareness and enacting sustainable social change.
Two performances will also be held throughout the day. Wastelands by Savannah Harvey is an interactive theatre performance that focuses on the impacts of waste. Harpist Eily Aurora will play along to the frequencies produced by plants.
The safety of all of our exhibitors and attendees is very important to us. As such, market attendance has been limited to a 30-min window for all participants and we assigned a maximum amount of entries to each time slot. Register and book your preferred time slot today!
Time

(Saturday) 11:00 am - 4:00 pm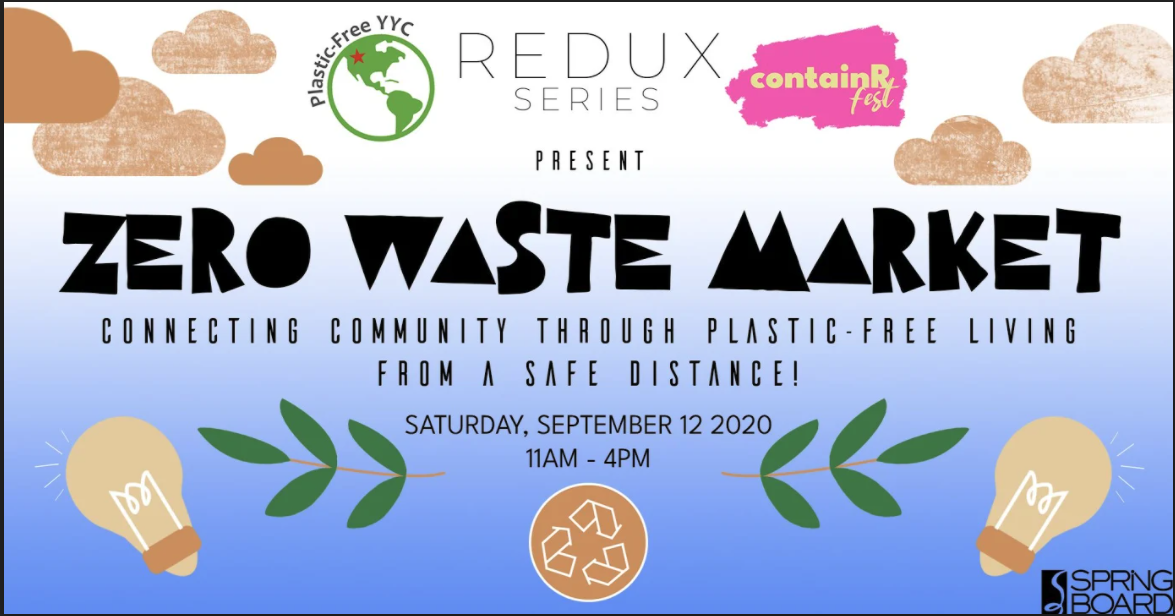 Event Information/Tickets (link)
https://www.eventbrite.com/e/zero-waste-market-tickets-118187821957?fbclid=IwAR1xzGVqJBumwveahjD1fbxCxqnisp-eWCfsgU7SlFUWzxROAjrEb9XInHs
Organizer (Title or Organization name)
Organizer (Contact email)
boxoffice@springboardperformance.com
Organizer (Contact phone number)
Organizer (Website)
https://springboardperformance.com/containr
If you selected "Other" from the "Event Location Fields", please fill out the event location here
containR 1020 2 Avenue Northwest Calgary, AB T2N 1T6