Meet Paula Timm | cSPACE King Edward
In January, we officially welcomed the tenants of cSPACE King Edward. Some are all settled in, some are moving in little by little, but one thing is for sure, the energy at King Edward has shifted from the organized chaos of construction to one of invigorating creativity and activity thanks to the artists, organizations and entrepreneurs who now call cSPACE King Edward home.
One such member contributing to the vibrant new creative energy at cSPACE King Edward is visual artist, Paula Timm. We caught up with Paula to learn more about her path to finding and building her creative practice and her hopes for the future at cSPACE King Edward.
Believing that it wasn't possible to be an artist, Paula didn't originally pursue an education or career in art. Instead she sought work in a variety of quasi-creative jobs – graphic design, promoter, project manager, teacher's aid, and purchaser, just to name a few. When Paula was diagnosed with auto-immune disease at age 25, she began to immerse herself in the healing power of creativity and art throughout numerous required medical leaves. But the ultimate wake up call for Paula was when she awoke in the ICU after near-fatal complications during surgery. In that moment she realized her creative passion could no longer take a back seat to the perception of job security. It was then that Paula dedicated herself to living an authentic, creative and joyful life.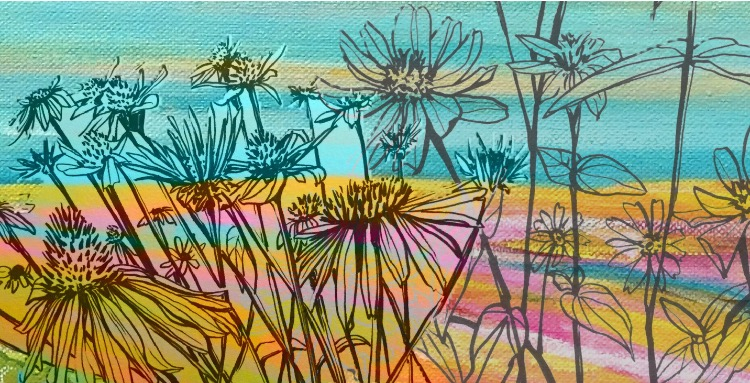 Today Paula has a thriving art practice that blends her love of teaching, writing, and creating fine art. In addition to her own fine art practice, Paula partners with Calgary artists and non-profit organizations to foster community engagement initiatives that promote and encourage the healing relationship between wellness and creativity. Her hope is to inspire others to consider their own personal journey and its important connection to self-expression.
We caught up with Paula for a brief Q&A to get to know her a bit better. Read on.
Why do you do what you do?
I paid the ultimate price of not living a creative life; now I am compelled to create and help others to find their creative voice. I know the cost it has on our physical and mental health when we don't find a way to express. We have such tough inner critics which hold us back from expressing – be it in art, words or emotions. I hope that I can inspire others to consider their journey to connect with their own self-expression.
What do you feel is integral to the work of an artist?
Whether you call yourself an artist or not, we are born of creativity. Without it, we are not expressing fully the range that we possess. We have the ability to sense and create, if we suppress the urge we suppress a very important part of our being. It can be painful, sometimes, to feel the range of emotions when creating but ultimately it is rewarding to feel our range of emotions. It is integral that we commit to the practice of creating so that we give voice to the depth of our capacity to express.
How does Calgary nature and support your work? And at the same time, are there obstacles to overcome working in Calgary, what are they? 
I am so very fortunate that I came to my arts career at a time when the Calgary community is embracing a collective, creative vision in a powerful way. I have the most amazing supports in both individuals and agency that exist to support artists in Calgary. I have had the amazing opportunity to both exhibit, sell, teach and advocate in a multitude of environments in our city. I am excited for our creative community future, we are on the edge of amazing things!
What role do you feel the artist have in society?
I feel the role for an artist is the same for the person who works in an accounting firm. We are made of the same bits – we express, learn, teach, create, and offer great acts of kindness to offer wisdom, beauty and support to each other.
What will you bring to cSPACE and why do you feel it's the right fit for you?
It is an honour to be one of the inaugural tenants. My personal and professional values are community, connection and creativity so it's the perfect place for me to launch the next phase where I can develop my own practice but also rent space to other creative business minds to operate workshops. Paula Timm Artist Studio will be a hub of creativity and collaboration with classes, gallery and retail of unique goods.
You can find Paula on Facebook or follow along with her on Instagram